THE NEXTDOOR ARTSPACE IS A PLACE FOR SHOWING AND CREATING ART. AND FRIENDSHIP. 
THE NEXTDOOR ARTSPACE IS LOCATED AT THE 4217 IN SURFERS PARADISE. 
ADDRESS: 10 BEACH ROAD, SURFERS PARADISE QLD 4217
THE NEXTDOOR ARTSPACE WILL BE OPEN on 
WEDNESDAYS
to
 SATURDAYS.
like your favourite cafe, THE NEXTDOOR ARTSPACE WILL HAVE OUR VERY OWN LOYALTY CARDS. VISIT THE SPACE AND GET YOUr CARD STAMPED FIVE TIMES FOR A SPECIAL PRIZE!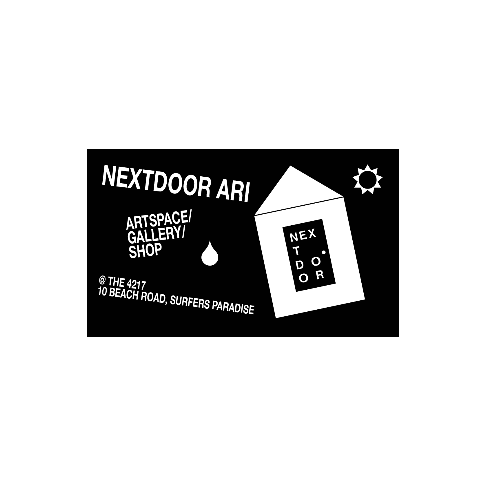 THE 4217 IS HOME TO A NUMBER OF ARTISTS AND CREATIVES, NEXTDOOR ARI IN GOOD COMPANY! CHECK THEM OUT BELOW...
[TBA]
keen for an arty day-trip in the sunshine? CHECK OUT

THE GOLDY ART DIRECTORY

 AND EXPLORE THE SURROUNDING ART SPACES IN THE Gold Coast!
The 4217 exists to empower quality local & artisan industries. Nurture innovation & develop new ways of local trade. Nourish the community.
​​​​​​​
The 4217 + studio is a City of Gold Coast initiative to connect creative collectives with space to thrive and reinvigorate the 4217 Surfers Transit Centre.