Landen Callander is a Meanjin (Brisbane) based artist focusing on the logical and diagrammatic representation of thought, memory, and feeling. Their works seek to bring representation and importance to underappreciated, mundane constants within suburban Australian life. Landen completed their Bachelor of Fine Arts (Visual Art) with Distinction at Queensland University of Technology (QUT) in 2019. During his degree Landen interned at not-for-profit art residency space, House Conspiracy, eventually becoming a board member before leaving to co-found their own not-for-profit initiative, Nextdoor ARI, with a group of good friends. Through the co-directing Nextdoor ARI, Landen hopes to support emerging contemporary practices and help foster a friendly, art loving community.
Lyss Cassidy is a creative living on Yuggera and Turrbal land (Brisbane). Lyss creates from their bedroom, exploring their experiences of illness, queerness and neurodivergence. They use a wide variety of craft based mediums, including collage, zine making and floral art. Through their involvement in Nextdoor ARI, Lyss hopes to foster a kind and accessible community that invites other marginalised creatives out of their bedrooms and into public spaces.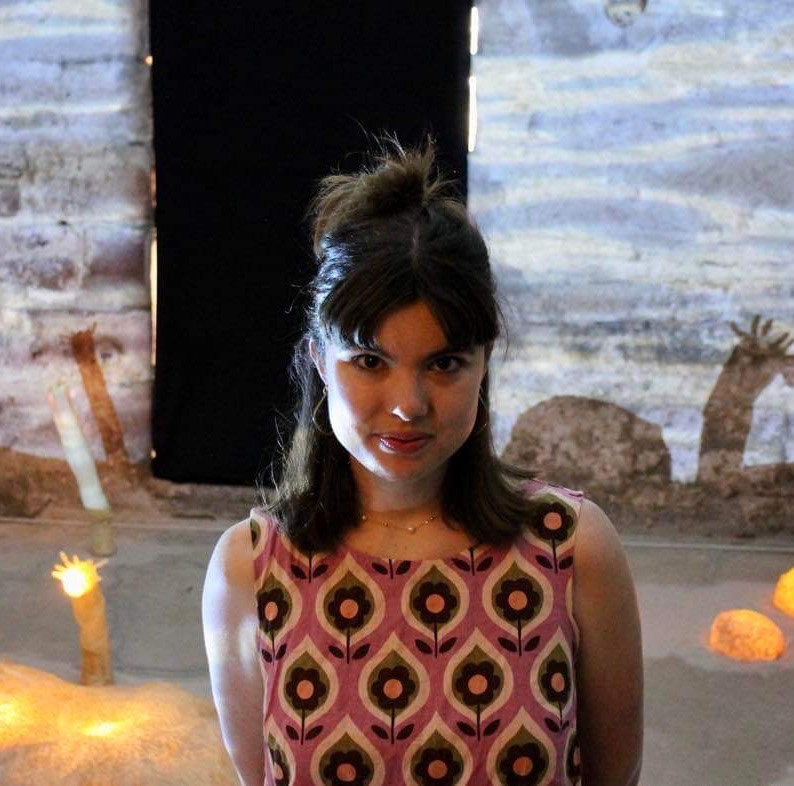 Bella Deary is a Meanjin (Brisbane) based visual artist and PhD candidate whose practice gathers influence from ecological philosophy and ecology to promote the equality of all life forms. Bella predominantly creates large scale installations and video artworks which respond to the critical issue of climate change and  resulting ecological issues. After graduating from QUT 2020 with a Bachelor of Fine Art (Visual Arts) in 2020, she has commenced her PhD at QUT, examining art-science collaborations. Bella has exhibited widely throughout Brisbane, Sydney, the Gold Coast, and the Sunshine Coast and was recently the recipient of the Hilde Chenhall Memorial Scholarship (2021). She is excited to be joining the Next-door ARI team in 2023 and hopes to create a safe space for emerging artists to show experimental work.
Joaquin Gonzales is a Meanjin (Brisbane) based artist whose practice focuses predominantly on self identity in relation to his personal experience as a lapsed Catholic. Responding to his upbringing in a traditional Filipino home, his practice is heavily informed by Roman Catholic ideology. Aiming to incite dialogue in regards to the somewhat unquestioned absurdity of organised religion and the existence of an omnipotent deity, his work addresses his ever-changing relationship with Catholicism through sculpture and installation. Often recontextualising everyday objects through the integration of Catholic iconography and symbolism, Joaquin emphasises an almost comedic link between religious tradition and modern living.
Joaquin recently graduated with a Bachelor of Fine Arts (Visual Arts) at Queensland University of Technology. Since graduating, he has undertaken volunteer positions with Outer Space ARI and the Institute of Modern Art. 
Nicholas Tossmann is a Gold Coast based conceptual artist. Tossmann is intrigued by our innate curiosity as humans and our ability to question, irrespective of whether we can find answers. This innately existential curiosity is the primary motivator for Tossmann's practice. Tossman's work utilises text in the forms of installation, sculpture, performance and video and is often made site specifically, considering spaces and architecture to imagine how viewers could physically engage and relate to intangible ideas. Tossmann uses text for its ability to give tangibility to intangible ideas, and disseminate and expand upon those ideas. 
His work invites a contemplation of the self in relation to the absurd. By creating introspective thought and conversation around ideas represented in text we are able to gain an understanding of both our and others perspectives around how we construct meaning. 
Abigail Rutter is a Canadian born Brisbane (Meanjin) based artist whose practice involves a multidisciplinary approach to making. Rutter often incorporates mediums such as painting, installation, soft sculpture and mixed media as a mode of meditating on themes of collections, life cycles, traces of memory, and erasure, as well as preservation. Abigail completed a Bachelor of Fine Arts (Visual Arts) in 2020 at the Queensland University of Technology. It is through her involvement in Nextdoor ARI that Abigail hopes to foster a space where emerging artists may congregate to exhibit, discuss and form meaningful connections pertaining to contemporary artistic practices.​​​​​​​
Kimberly Stokes is an emerging artist and designer living on Yugambeh Country/ Gold Coast, whose practice explores concepts of identity and digital culture. Her interest lies at the intersections between social networking, performativity and the digital photograph; with a particular focus on self-portraiture.
In 2022, Kimberly founded THE GOLDY, an online art event calendar and artist directory for the Gold Coast, Australia. 
She is an acting Co-Director of NEXTDOOR Artist Run Initiative; a not-for-profit organisation that exists to champion the experimental practices of emerging artists, currently based in Surfers Paradise. She is also an Artist Educator at HOTA Gallery.
Meg Stoios currently lives and works on the lands of the Kombumerri families in South East Queensland (Gold Coast), bordering Bundjalung Country (the Northern Rivers). Stoios is invested in complex narrative and visual language structures in painting and sculpture and has a highly technical approach to composition and mark making. The use of life models is integral to their work. Using both figurative and abstract imagery, Stoios unpacks personal and shared traumas, revealing the psycho-scapes of interpersonal relationships. 
Stoios completed a Bachelor of Fine Art at the VCA (Victorian College of Arts, now University of Melbourne) majoring in Drawing in 2012.
Claire Su is an emerging creative based in Meanjin (Brisbane) exploring aspects of human connections. She is currently completing her dual degree of Business and Creative Industries at Queensland University of Technology (QUT). Through Nextdoor, Claire wants to support a welcoming and encouraging arts community that provides a safe place for emerging creatives.
Amelia is a multidisciplinary artist, administrator and researcher. She is a founding co-director of Nextdoor ARI and loves supporting people in their creative pursuits, she achieves this by bringing a 'get shit done' attitude and through previous experience of managing arts-focused outputs. Amelia is passionate about supporting emerging artists, writers and workers. In addition to her role at Nextdoor ARI, Amelia is an ARI organiser of Wreckers Artspace and completing a Masters of Philosophy at QUT. Her practice examines the value of art, art institutions and the portrayal of art in pop culture. These concerns produce community-focused participatory projects, installation and performance art; which is applied through pop art strategies, parody, sound and institutional critique-based approaches. Amelia has exhibited across South East Queensland, including at The Walls (Miami, Gold Coast), Boxcopy, IMA Belltower and completed a residency with Outer Space.​​​​​​​