BEHIND EVERY DOOR 
WITH ASHLEE BECKS
Zali Matthews from 
Nextdoor,
here to interview artist Ashlee Becks.
First up, local writer Zali Matthews interviews artist Ashlee Becks.
Ashlee Becks is an emerging artist based in Brisbane/Meanjin. She recently completed her Honours in Fine Arts at the Queensland College of Art. In 2020, she was the recipient of the Emerging Artist Award at the Brisbane Portrait Prize.
Ashlee's work explores the need to better understand and live with the self. A material sensibility guides her approach to painting, with thick impasto mark making acting as a metaphor for self-discovery and healing. Loving, performative, and visceral strokes enable viewers to sense the presence of the artist. Ashlee hopes that the open and mentally confronting images she creates will aid in dissolving the stigma associated with mental illness and seeking help.
Z : When did you become interested in art? Is there any particular moment that comes to mind?​​​​​​​
A : I was always the 'arty' one. From a young age it was the only thing I identified with as being good at. ​​​​​​​
Z : What do you like most about painting with oil and impasto?
A : 
The aspect I like most about painting with oil and impasto is the application process. I can slather paint on and be very expressive in some areas, and in others, conservative and detailed. The richness of colour is maintained through the mixing process and the results are decadent and thick. 
Z : 
Many of your works appear to be self-portraits. Can you please tell us a bit as to why you tend to paint yourself in your works, and how it ties into your practice?​​​​​​​
A :
In high school I was diagnosed with an eating disorder and was not mentally or physically okay for a long time. My obsession with painting myself stemmed from my obsession with my body. Every part of my life came to revolve around my outward appearance. I painted myself in an effort to understand myself and to familiarise myself with a body that felt unfamiliar. I continue to learn a lot about myself through painting. 
Z : Flowers and domestic interiors often feature in your works too. What draws you to painting these subjects?
A :

 
For me flowers are a symbol of hope. I was hospitalised for three months as a result of my eating disorder, during which I was gifted flowers. I sketched them to pass the time and to bring some sense of normalcy to my days in confinement. Since then, I have repeatedly used flowers in my work to provide consistency and beauty in moments that were unsettling and very ugly. ​​​​​​​
Z : Can you describe your process of 'mark-making' in your practice?
T : 
Mark making is the most important part of my practice. I like to think that a little bit of me goes into each stroke. The physicality and time that accompanies pallet knife painting allows me to work through emotions and process past traumas. I find it to be very cathartic.  ​​​​​​​
Z : What guides your vivid use of colour in your works?
A : I work from photographs and always interpret colours at their most saturated. I like to add colour where I see it fit and never over-mix the paint to be sure that all the pigments are still visible when viewed closely. ​​​​​​​
Z : How has COVID-19 affected your work in any way?
A : 
Yes, for the better. I was completing my Honours in Fine Arts at the time and COVID meant I had to transition from the university studios to painting from home. Although it was an adjustment at first, I ended up being able to devote a lot more of my time to painting because I didn't have to travel. At home there were no distractions and less pressure. I definitely missed the arts community around university, but it prepared me for graduating and working independently.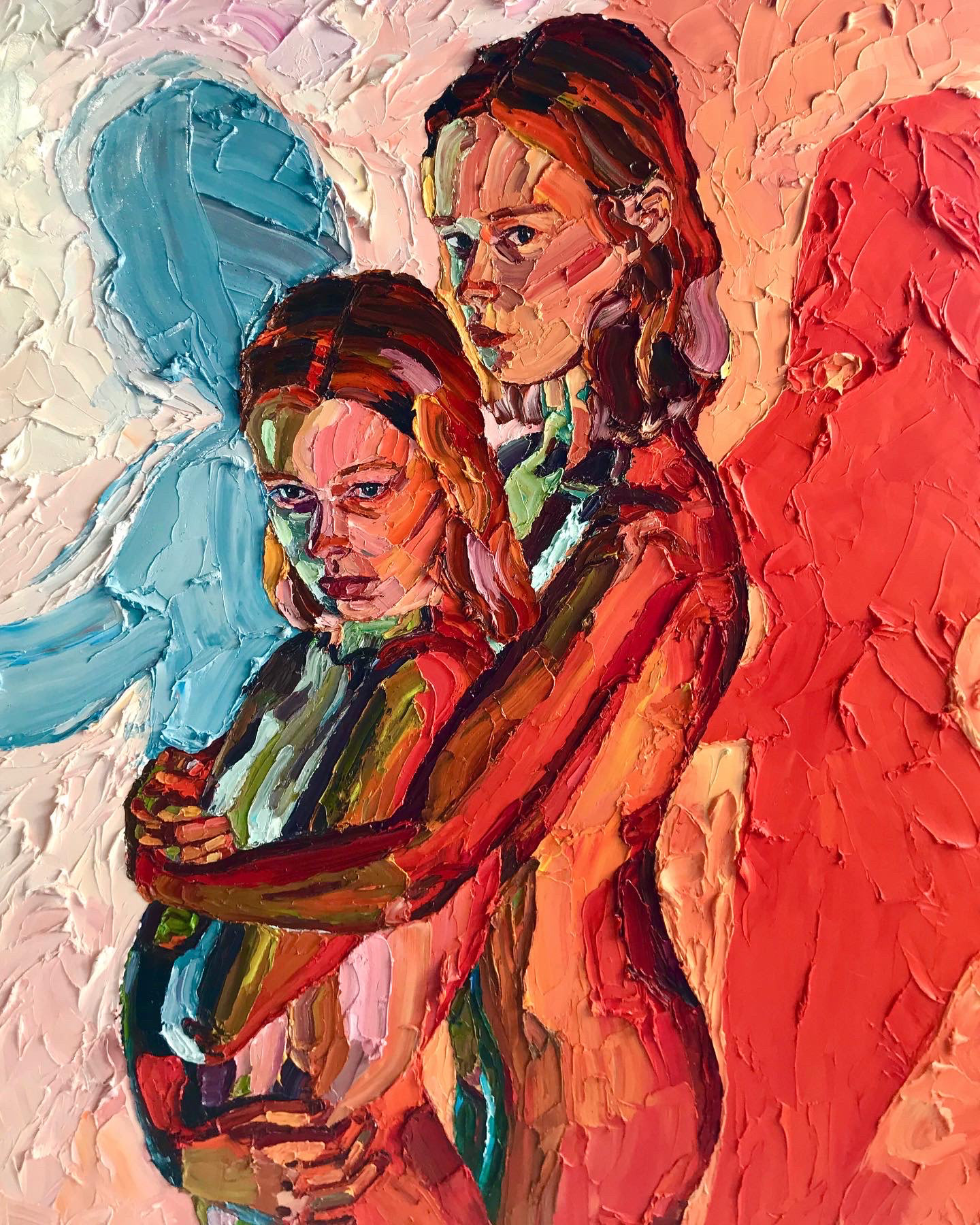 Z : How do you think art helps create conversations around mental health and trauma? 
A : Art is a great way to promote discussions around mental health partly because the person suffering doesn't have to verbalise it. Emotions can be worked through and shared with audiences sensitively without worsening trauma. In my experience, the only way I was able to acknowledge I had trauma without feeling immense guilt was through painting. For me, it was a form of validation. ​​​​​​​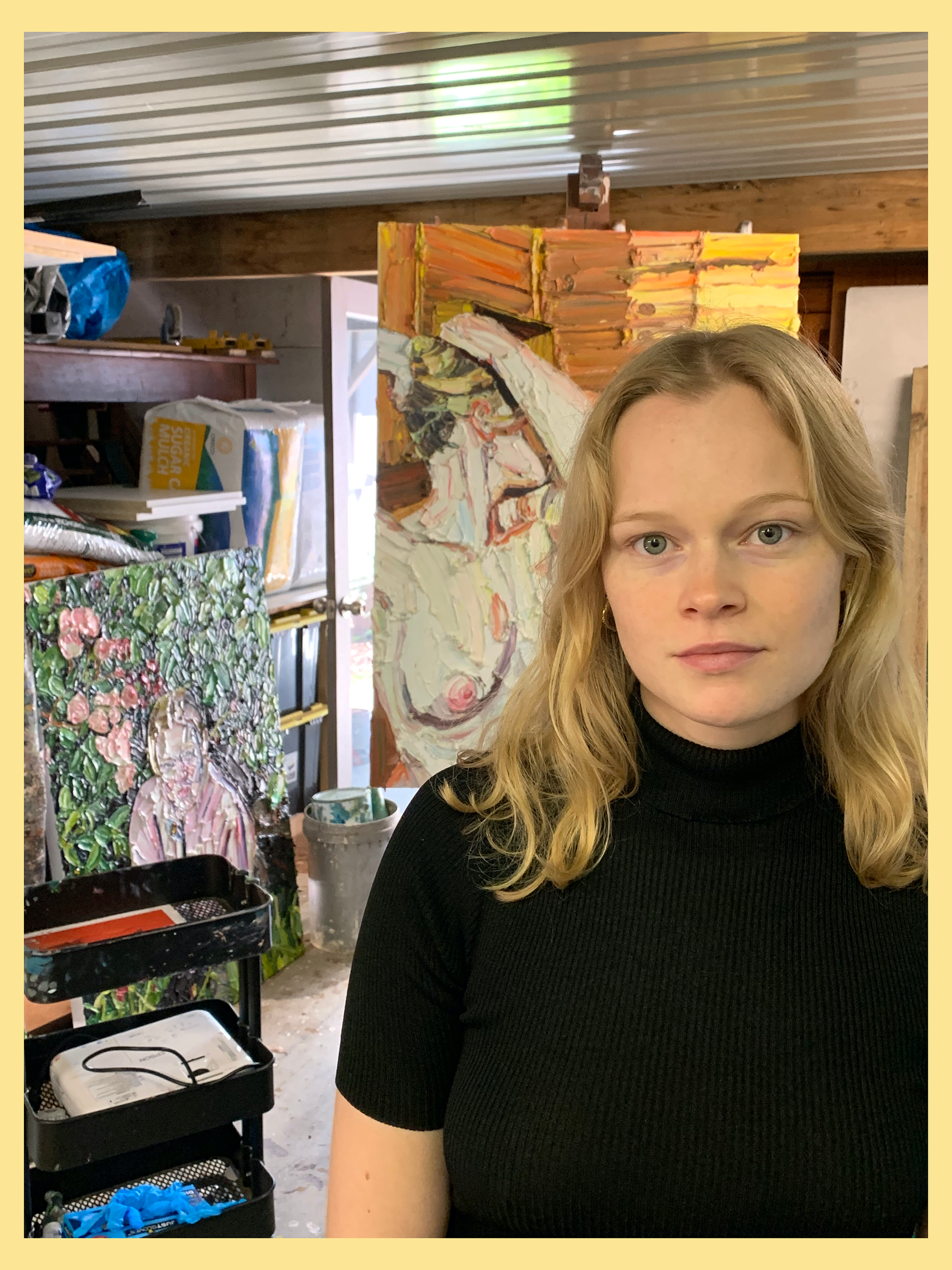 Thanks to Ashlee Becks and Zali Matthews! 
Follow our ongoing artist interview series 'Behind Every Door'. 
Come see Ashlee's work at the Brisbane 'Winter' Indie Project
The Zoo (711 Ann St, Fortitude Valley QLD 4006)
FIND OUT MORE ABOUT ASHLEE BELOW!
FIND OUT MORE ABOUT ZALI BELOW!
This interview was created in collaboration with the Brisbane Indie Project. Check them out below!