BEHIND EVERY DOOR 
WITH JACK BINGHAM
Olivia Trenorden from 
Nextdoor,
here to interview artist Jack Bingham.
Jack is a 22 year old fine art student from Brisbane with a passion for handmade goods and therapeutic craft. Each piece is handmade, using original patterns which he developed through much trial and error. His focus is to produce one of a kind functional and funky crochet items with tight & durable stiches, while changing attitudes about what is considered masculine.
O : Thanks for meeting with me today! I've got to ask first of all - how did you learn to crochet? I've been trying my hand at it recently and can't get the hang of it! 
J : I taught myself, on the couch! It took me a while to get the hang of it, and I made a lot of bunk pieces while practicing. I collected them all and turned them into a project at uni where I stitched all of my half-done pieces together into a huge tapestry. I didn't really watch YouTube to learn, I mostly looked at pictures and books. I started to understand the techniques a lot more when I was learning to crochet wire for a jewellery course I was taking.
 ​​​​​​​
O : You work in these gorgeous pale pastel colours a lot. What draws you to that colour palette? 
J : That's very deliberate. They're my favourite colours as well. I like how it creates a weird dynamic, where I'm crocheting a super bogan device like a stubby cooler out of pink yarn.
O : Crochet and other textile arts have been used a lot lately in community activist textile art - sometimes called 'craftivism.' Does your work have any applications to craftivism? 
J : My understanding of the craftivism movement is that it's a fairly quiet and peaceful one - like the domestic arts. I feel like that's kind of what I'm doing with my stubby coolers.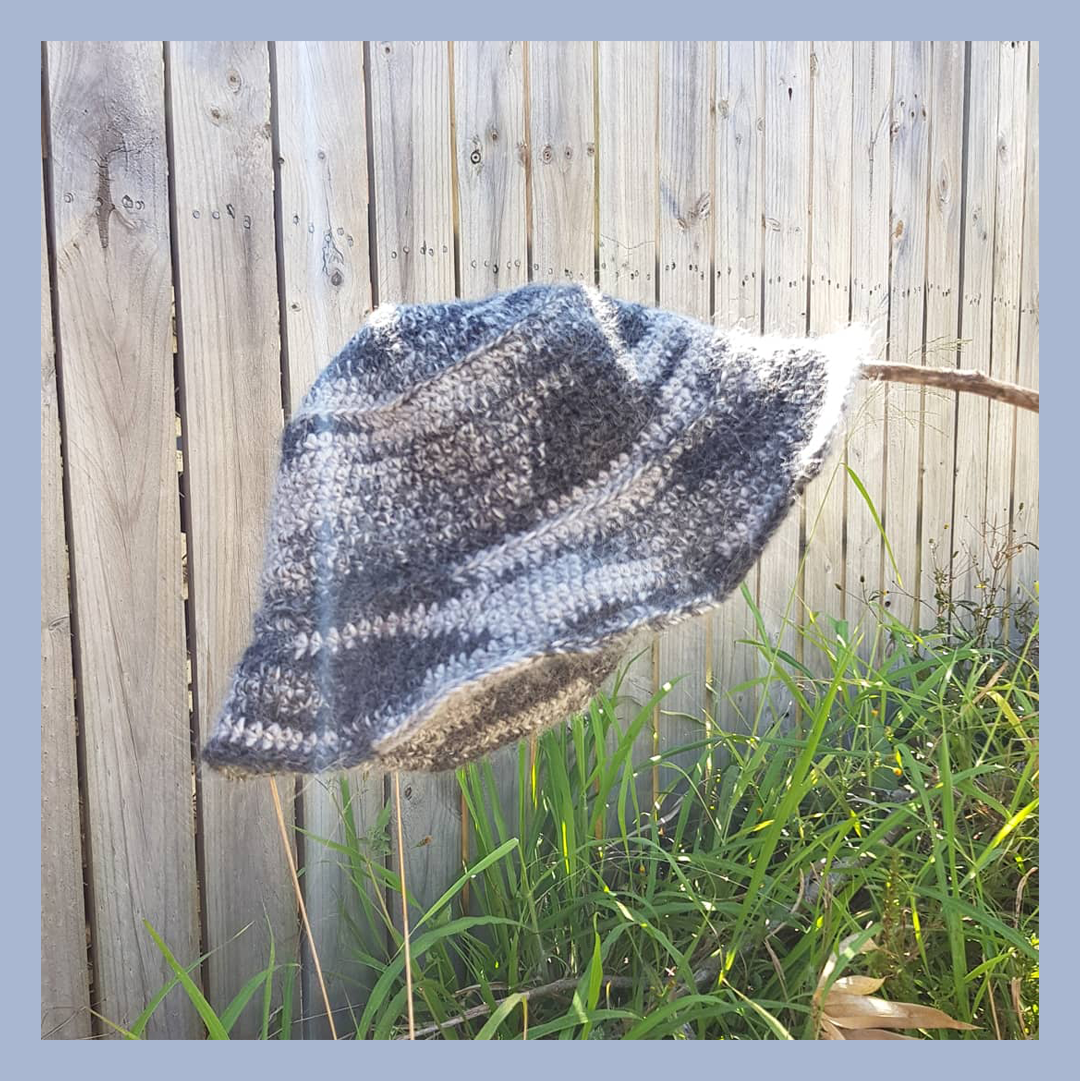 O : I've been reading into psycho textiles recently and the applications of weaving, crocheting and knitting in psychological studies due to the visual effects of repeating patterns. Have you ever noticed this in your work? Does completing crochet works have a relaxing effect on you? 
J : It's definitely relaxing. I always need to do something with my hands otherwise I go insane. So I guess that's kind of why I picked it up to start with - I find repetition very soothing, so the monotonous act of crocheting is calming for me.
O : I find that something sort of magical happens when you gather a group together and take part in a task that's sort of methodical and rhythmic, like crocheting or knitting. Do you work with a group sometimes?
J : Yeah definitely. I have a few friends that I crochet and craft with and it's very different to when we're just hanging out on the sesh. The conversations are always so different and a lot more thoughtful and patient.
O : Do you dabble in other mediums? And if not, why is crochet so important to you? 
J : I have learnt a lot about graphic design and jewellery making in my studies. I don't do too much of that anymore, but I do lots of other stuff. I really enjoy painting, mostly gouache and watercolour. On my way here, I was thinking about when I painted a shop front for a restaurant - I'd like to do something like that again soon. I installed it myself as well!
O : Thinking further on your practice - what's your dream project? If there were no practical limitations, where would your practice take you?
J : Besides having all my friends sleep under a handmade blanket I made for them, it makes me so happy when people are drinking beers out of my stubby coolers. It's such a moment of personal pride, plus it keeps your beers cold! Most of my friends have one and it always puts a smile on my face when I see them in use.
O : The texture and colours you used remind me a lot of the work of Hiromi Tango. Who has influenced your artistic practice?  
J : I get most of my inspiration from experimenting, or from materials I find. I'm definitely inspired by the works of Sheila Hicks and Annie Albers - I love their weaving.
O : And lastly, for a little bit of fun - who is attending your dream dinner party, alive or dead? 
J : I think the people I'd want to talk to wouldn't really be interested in talking to me. Definitely Annie Albers, I've got so much to learn from her. Francis Bacon as well, he's pretty cool. Bone Thugs n Harmony would be a vibe too. Apart from local people, I'm not really sure who else to say!
Thanks to Jack Bingham and Olivia Trenorden! 
Follow our ongoing artist interview series 'Behind Every Door'.
Come see Jack's work at the Brisbane 'Winter' Indie Project
The Zoo (711 Ann St, Fortitude Valley QLD 4006)
FIND OUT MORE ABOUT JACK BELOW!
FIND OUT MORE ABOUT OLIVIA BELOW!
THIS INTERVIEW WAS CREATED IN COLLABORATION WITH THE BRISBANE INDIE PROJECT. CHECK THEM OUT BELOW!