BEHIND EVERY DOOR 
WITH RUBY MACGREGOR
Bella Deary from 
Nextdoor,
here to interview artist Ruby Macgregor.
Ruby MacGregor is a local ceramic artist, working out of her home studio in Kangaroo Point. Her work is a mix of functional and sculptural ceramics, with a focus on earthy tones and organic sculptural forms, inspired by the native Australian bushland and found materials. ​​​​

B : What led you to ceramics? Have they always been in your life or is this a recent love affair?
R : Always - my mum and my grandma are ceramic artists. My grandma has been involved in ceramics since the 60s, so I probably just osmosis-ed it through them. It's always been around since I was a kid, but I only started doing it more seriously when I was 17 during high school for my art assignments. I feel like I got into pottery most last year, I got my grandma to give me a lesson after my first few goes and have gotten a lot better! I started taking it a lot more seriously and then other people started taking my work more seriously.
B : Ceramics hold immense value in many families and cultures. What is the significance of working with ceramics to you?
R : I like that it's a really tactile medium and can be very practical and functional. I also enjoy having a slow process of art making and I think this slow process is rewarding. It's also very satisfying being able to experiment with a medium and then get a successful result. There are so many things you need to learn and so many ways you can mess up that it's very satisfying when you get good at it. It's also really nice being able to bond with my family about it. I've never really had lessons because I've been lucky enough to have family to teach me.
​​​​​​​
B : I love that your practice has a focus on zero waste and recycling clay, and even the medium of clay is a natural material. Would you consider environmentalism as an important foundation for your work?
R : Yeah definitely. I really do like that most of the mistakes made with clay when it's raw can be crushed up and watered down and you can start again. I recycle all my clay scraps, unless they're full of dirt, and turn them into new pots instead of throwing them out. I think you get lots of new clay body colours if you're recycling it, this often works out well unless the clay bodies aren't compatible. I've also got some really interesting results from combining different clays to create new patterns. Sometimes I separate out pieces of clay and roll them together to create a marbling effect. I also like mixing glazes. ​​​​​​​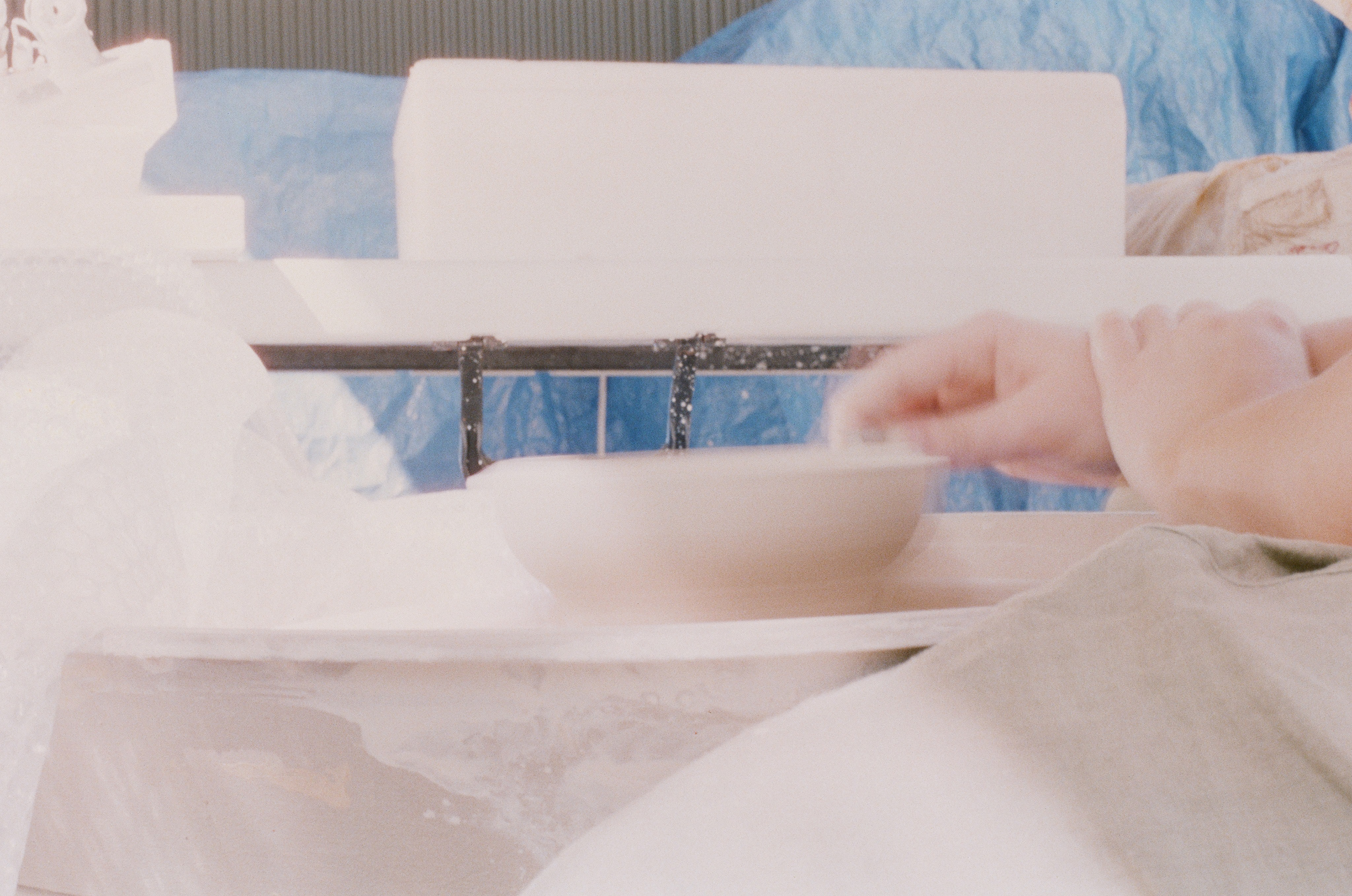 B : Can you tell me a bit about your process?
R : 

I mainly do wheel throwing, but I hand build all my vases. For the marbled ones I either pigment or use different coloured clay bodies and wedge them together and then throw them like normal, before trimming them back down to reveal the colour. For my big platters I use slabs to slab roll them, meaning you roll out the clay many times until its the thickness you want and then mould it. 



For a lot of my work I go into my garden and collect things like seedpods, so that inspires a lot of my work. I try to copy things I find in the garden and always try to create organic shapes. I have a big banksia tree right next to the studio and one time I found banksia pods and created a vase influenced by these.
B : Did you find it challenging getting into the social media side of things or did that happen pretty organically?
R : 

I feel like I've always been pretty good at taking photos so that came kind of naturally, especially because I used to manage my work's social media account. I was kind of scared to sell my work at first, but it worked out pretty well actually. I started by selling on my instagram story, and sold out of all the work I put up. So I thought I should make a website.​​​​​​​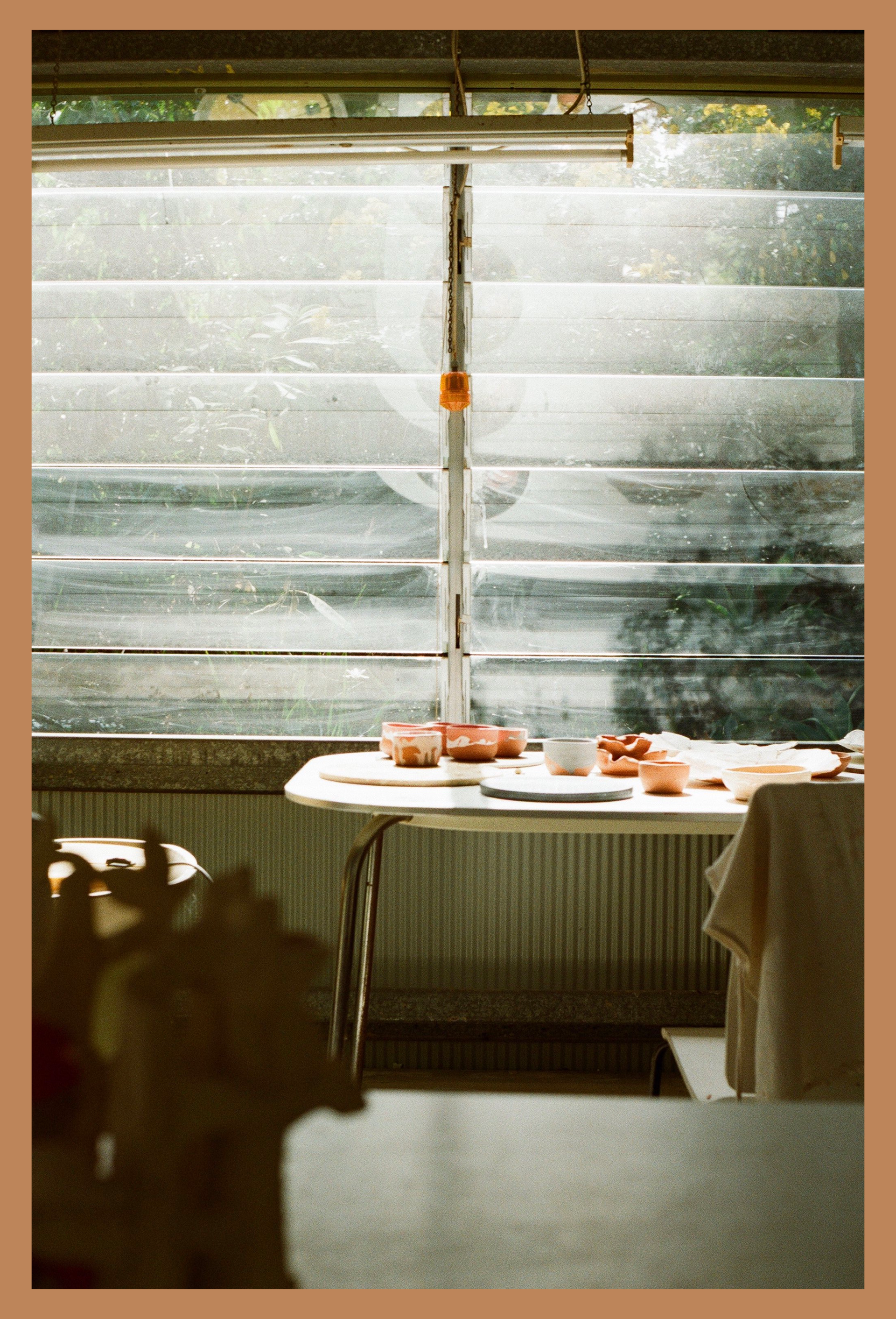 B : Do you have any tips for other emerging ceramicists?
R : Watch Youtube tutorials! I think I was lucky because I had my family to teach me but I also just kind of messed around with it. There are so many different types of clay and firing types, and there's only really one place to get firing done in Brisbane which is in Milton. I think you just have to give it a go, and genuinely YouTube has been so helpful for me. I think you have to make bad, sad mistakes to get better, I've made so many sad mistakes but when it works out it feels worth it. You can try to control it as much as you want but things always go wrong. Even when I get things out of the kiln there are always a few I like and the others I usually don't, but those are usually the items that are sold first. So even if you don't like what you've made, often other people will. ​​​​​​​
B : 

Do you have any upcoming events that you would like people to know about?
R : I will have a table full of pottery at the Brisbane Indie Project in July. I'll be displaying some of my functional and sculptural works and have a fair bit for sale. ​​​​​​​
B : If you had to live the rest of your life as one of your ceramic items, which would you choose?
R : Maybe one of my vases. The one with a big a hole in it is a good one. It's not my favourite (I don't pick favourites within my children), but this one has a big hole in the centre so I feel like it would be nice and airy, it's the first that came to mind. ​​​​​​​​​​​​​​
Thanks to Ruby Macgregor and Bella Deary! 
Follow our ongoing artist interview series 'Behind Every Door'.
Come see Ruby's work at the Brisbane 'Winter' Indie Project
The Zoo (711 Ann St, Fortitude Valley QLD 4006)
FIND OUT MORE ABOUT Ruby BELOW!
Find out more about Bella below!
This interview was created in collaboration with the Brisbane Indie Project. Check them out below!