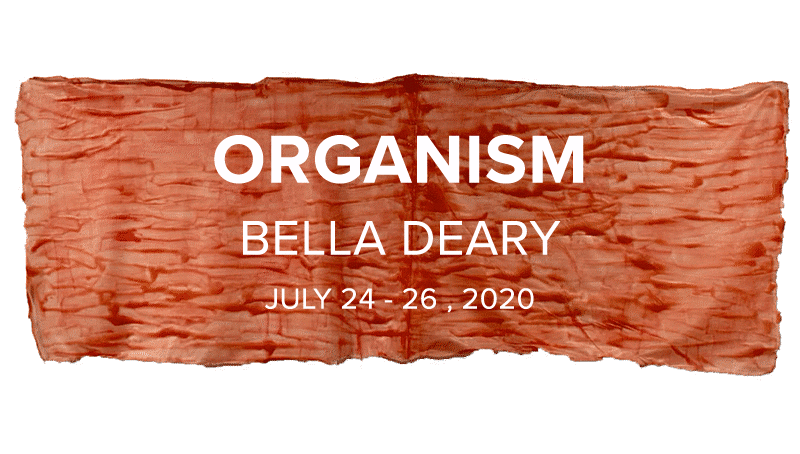 Or

ganism
is a multimedia exhibition, existing as an exploration into the materiality of latex. Pink sheets of plant-based latex are utilised across artworks of both digital and tangible mediums; drawing particular attention to the material's resemblance to the human body.
The visual and textural qualities of the latex mirror that of human flesh or skin. The artist employs techniques of narrative, meditation, juxtaposition and mediation throughout the exhibition, in an effort to identify innate similarities between the organic makeup of humans and our natural origins. 

​​​​​​​
Throughout
Organism
, the artist conveys a fusing of the human body and nature, as sand, water and skin combine to create hybrid landscapes of organic matter. Digitally composited imagery invites the viewer to enter an imagined environment, whereby elements of nature are united with human flesh. This affinity is further expressed through poetic narratives that assertively suggest this relationship to be inherent and indispensable. In contrast, certain artworks introduce references to the domestic space as an alternative human habitat. ​​​​​​​​​​​​​​
Latex forms resemble that of the internal human body, establishing an awareness of the corporeal and abject. 

​​​​​​​

The anatomical likeness attributed to the latex is at times confronting, yet inviting. Through this material investigation, our mortal bodies are presented to us as living organisms derived from nature. In both a literal and metaphorical sense, we may begin to explore ourselves from the inside out. ​​​​​​​
Bella Deary is a current Visual Arts student at Queensland University of Technology. Deary's practice primarily investigates video art, immersive installation, and performance art. Deary harnesses time-based media, multi-media installation, performance, and interactive, immersive environments in an effort to communicate to audiences in emotionally affective and psychologically impactful ways. 
Deary primarily examines the critical state of the natural environment and other sociopolitical issues through her work, often employing motifs of the body and domestic spaces. Deary often intertwines imagery that references both the human body and nature in an effort to emphasise ecocentric values. Deary often communicates these concepts in a style that details an abstracted or imagined reality, in either humorous, political or affective thought-provoking tones.
THE WALLS is supported by the City of Gold Coast through the Accelerate Triennial Grant Program