A SOLO EXHIBITION BY SARA COWDELL
OPENING

EVENT: MARCH 24, 2023 5-8PM
NEXTDOOR GALLERY @ THE 4217
10 BEACH ROAD, SURFERS PARADISE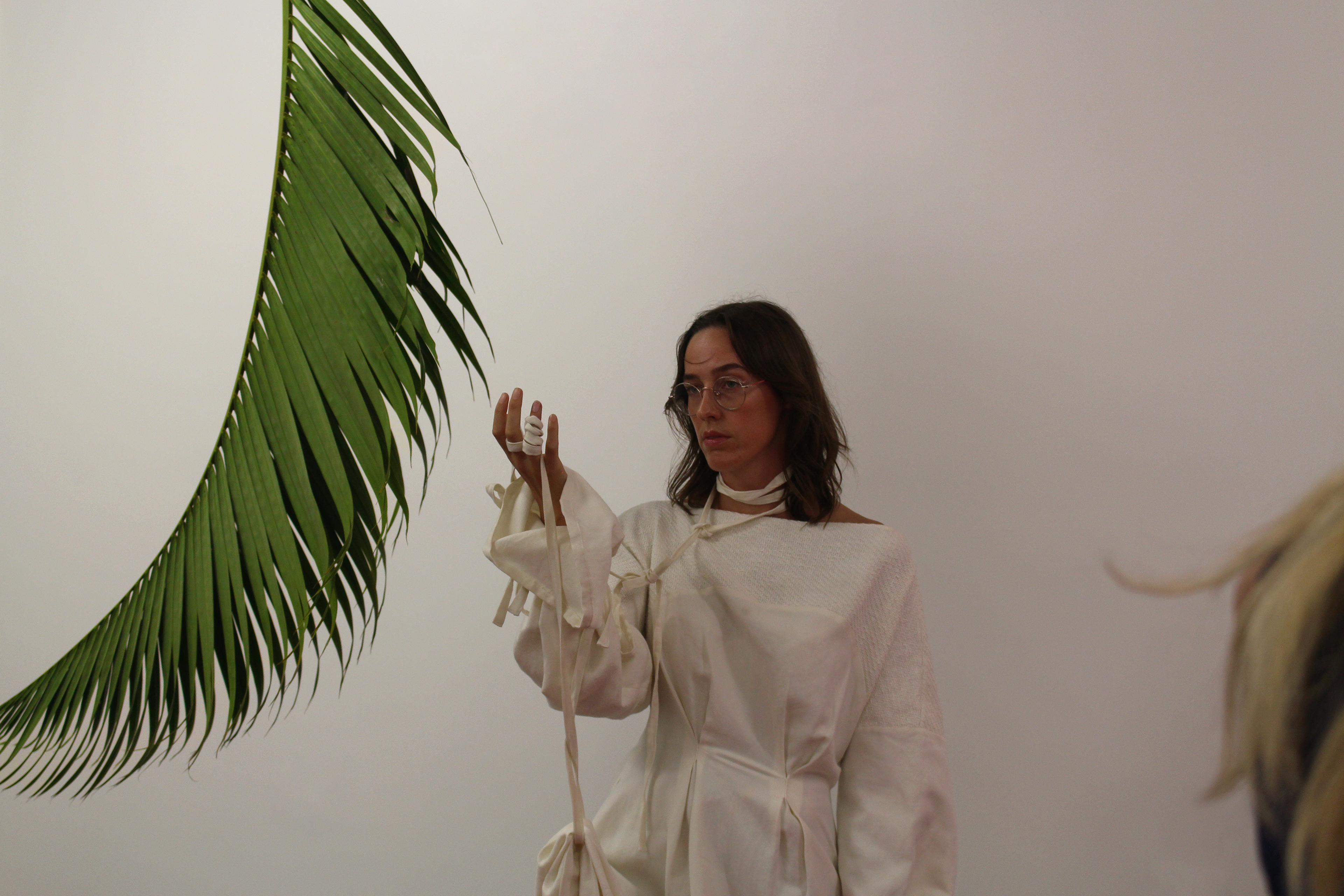 Performance documentation by Bella Deary
Exhibition documentation by Landen Callander
LIKE A BURNING STICK SNATCHED FROM THE FLAMES, YET YE HAS NOT RETURNED TO ME
confronts the uneasy desire for certainty and meaning within the ever changing social landscapes of a post-covid world. This work 
will be installed in the Nextdoor space as a second iteration of Cowdell's 2020 artwork. The exhibition is composed of a live performance, a sculptural installation, and a single channel video work.
It's failing to find solace or reason. An unprecedented desire for rituals we no longer remember. It dreams of a dystopian future that might already exist. Searching for a god we once knew. A state of inbetween and incompletion. It's running in circles, stealing glimpses across dirtied waterways and choking on our own mediocrity.
Sara Cowdell (she/her)
is a New Zealand performance artist and curator based in Melbourne, Australia. She is the director and founder of Performance Art Week Aotearoa, as well as an independent curator. As a performance artist, Cowdell utilises multiple modalities including action, costume, somatics, and ethnography to explore society through a formalised and qualitative intimacy. Cowdell's work strives for a raw viscerality and lingers on the uncomfortable textures of lived experience.
Cowdell has worked extensively with site-specfic practises and has created and presented work in numerous political, natural, and unusual sites, alongside traditional arts spaces. She has presented work across New Zealand and Internationally.
[Click object to view Sara's website]
[Click object to view Sara's instagram]
Cowdell wears a white dress (purity), hooves upon her feet (false idol), upon a red silk (sin), bastardizing the blood and body of a divinity she can't force herself to honor. Boiled eggs and milk replaced blessed crackers and watered-down wine, in a strange reference to a simpler time.
[excerpt from Olivia Trenorden's essay 'Church of Cowdell']
[Click object to view full text]
Olivia Trenorden is an artsworker and writer based on Yorta Yorta country in regional Victoria. She is passionate about accessible arts engagement and artist-run-initiatives, and works as Public Programs Coordinator at Shepparton Art Museum. She holds a Bachelor of Arts (Art History) (Hons I) and is completing a Master of Philosophy, both from the University of Queensland. Her research is largely focused on centring the work of queer, women modernists in Australia's art history.
[Click object to view Olivia's Instagram]
This exhibition will include sound design by Jazmine Rose Phillips, and costume design by Micky Tubb-Duncan. The video work was directed and performed by Sara Cowdell, Sound design composed and produced by Jazmine Rose Phillips, Videography and video editing by Samara Lucich, Costume Design by Micky Tubb-Duncan and funded by Creative New Zealand. 
The 4217 + studio is a City of Gold Coast initiative to connect creative collectives with space to thrive and reinvigorate the 4217 Surfers Transit Centre.